To view the full version of this page (or to download files), please log in or create a new account
ESI SYSTUS allows nuclear engineers to pre-qualify new component designs in accordance with nuclear industry regulations. SYSTUS offers a complete resolution to analysis challenges in mechanics, heat transfer, and electrotechnics, and aims to help you verify the behavior of energy components – such as nozzles, primary circuit pumps, the reactor, and the steam generator, also in addition to other industrial componentssuch as valves – during the design phase and accelerate decision-making during maintenance operations.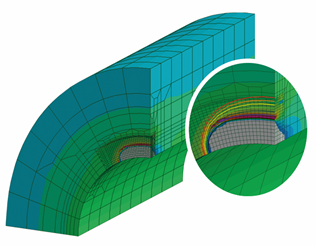 Highlights of SYSTUS 2022
FRACTURE MECHANICS
Additional results for Gthêta computation (Temperature T, Young's Modulus E and Equivalent Stress Intensity Factor Keq).
Crack Insertion application in Visual-Mesh, to mesh crack in a 3D model.
Improvement of the fracture mechanics post-processor manager in Visual-Environment. It enables users to compute easily Stress Intensity Factor and Energy release rate and now to display results of G along crack front and along time.
REGULATORY ANALYSES
NEWREG is the SYSTUS new module for regulatory analyses in accordance with ASME and RCC-M codes. For this release new options are available, and scalability has been improved.
Development of new options and functionalities:
o    Ke user
o    Labels Combination, NOTH, new tables, etc
PYTHON LANGUAGE
the PYTHON language has been integrated into SYSTUS since its 2016 version.
For this release:
o    New functions.
o    New library silsystus.py to access to existing SIL functions.
o    On-line documentation.
Please refer to SYSTUS 2022.0 English or French Release Notes and Visual-Environment 18.0 Release Notes for more details about this release.